The Grande Prairie Museum in Muskoseepi Park hosts an onsite gift shop with a variety of gifts and souvenirs that make unique gift shopping a breeze.
Books
Quench your thirst for adventure and knowledge with one of our many books on the history and culture found here in the Peace Country and stories by local authors.
Shelves are stocked full of stories which are sure to keep you entertained from start to finish including tales of gallant battles, overcoming hardships and building our region from the early pioneer days to recent history. 
The Grande Prairie Museum also carries a wide selection of books written by local authors. These include stories of regional history, fictional tales, and memoirs.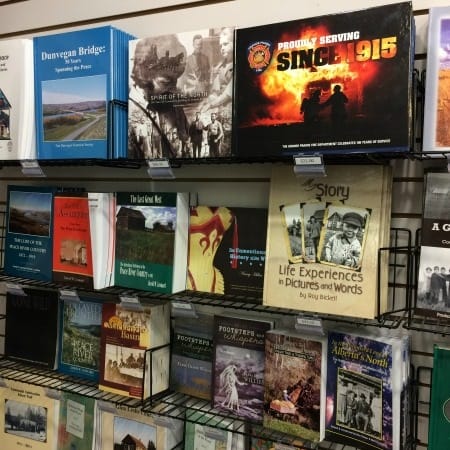 Sweets and Treats
Have a sweet treat or pick one up for someone special.
Our candy starts at just 25 cents and does not disappoint. We carry retro-style Barley Sugar Pops, various flavours of Candy Sticks, Old Fashioned Hard Candies, Pink Candy Popcorn, Ganong and more.
Treats at the museum are sure to satisfy that sweet tooth and are great for sharing favorites of the past with your friends and family. 
Toys and Treasures
Pick up a unique gift or souvenir from our selection of small toys. We've got lots to push the imagination with everything from dinosaur kits to gem and mineral collections!
Have a Suggestion?
If there are items you'd like to see in our gift shop, please forward your suggestions to culture@cityofgp.com.