To The Root is a dental hygiene practice that offers an alternative to traditional services by providing mobile and independent dental hygiene services.
Their focus is on oral health education and the prevention of oral diseases. They refer patients requiring restorative dental work to their dentist of choice.
Image
Meg Kreutziger's idea to open an independent dental hygiene practice started in 2017 after having challenges with finding accessible dental hygiene services in British Columbia for her unwell father.
 "I wasn't able to get him to get his teeth cleaned prior to his passing even though he really wanted it done," Meg said.
She recognized that her father could not have been the only one with this lived experience.
"Sometimes the universe puts everything in place for you and you just have to follow through."
In 2019, Meg opened To the Root with the goal of making Dental Hygiene more accessible to everyone.
A Different Atmosphere For Dental Hygiene
To The Root started as a mobile-only service and expanded to a storefront clinic only nine months after opening their practice.  Meg opened a storefront clinic to be able to help more people and tailor client's experiences to be inclusive to each client's specific needs and values.
Image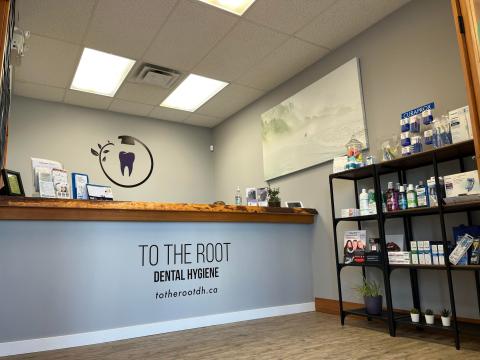 "We make recommendations on treatments and we go over the prices per procedure as well; we try to make it work for those with financial concerns with payment plans or breaking the appointment up into multiple sessions. We do not want people to feel overwhelmed with a big bill at the end."
"This business model is unique because the tradition is going into a dental office where there it's larger scale, lots of action happening and there's dentists. Here, it's a little bit more quiet and peaceful, and the focus is on preventative rather than fixing problems," Meg said.
Meg admits To The Root has a larger hurdle than most businesses, not only is it about educating people that their oral health matters because it's connected with systemic health and overall wellness, but it is also about changing consumer behaviour at the same time.
"We have a lot of barriers. And the barriers are having people change their mindset and attitude towards someone that's doing something different. Our services are an alternative to tradition, you will get safe, effective dental hygiene care from someone who does not work in a dental office" Meg said.
To The Root's Social Cause
To The Root has always operated with social cause as a priority. Their goal is to provide services to communities with people who experience barriers getting to a dental office because of a medical complex, are physically unable, or rely on others to get to a physical location.
"Dental hygiene focused  social work, that's what we're doing here."
Their cause has taken their mobile unit to various spaces like senior facilities and rural indigenous communities to provide hygiene care.
Image
"For example, someone who has a mobility barrier, or are palliative, and it's not safe for them to leave, then I will go to them and provide dental hygiene services. We provide everything a hygienist does in the office, but in their home, so that the patient is safe in their home/facility."
Growing A Team of Like-minded Hygienists
Meg wants to expand her business even further. Her goal is to increase To The Root's capacity to help more clients in the Grande Prairie community by growing her team and empowering hygienists.
"I feel like dental hygienists are an underutilized or underappreciated healthcare provider in the healthcare system," Meg adds.
"I want to see hygienists working to their full scope of practice in the capacity that they want, and in a place where they are allowed to be autonomous. I'd like to see that infiltrate into the community."
Learn more about To The Root and their suite of dental hygiene services by visiting their website.